Click here to read about the summer's FEATURED ARTISTS!

Visit the site's GUESTS page.

Click here for site NEWS.
* * *


Enter the site's "American Gothic" photo contest. CLICK HERE for details!
2013 WEBSITE SPECIAL GUESTS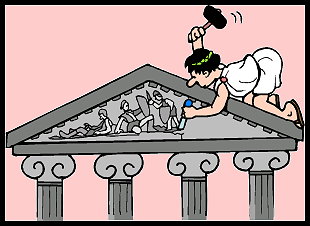 Each summer special guests are invited to exhibit works on the site which either express or in some way interpret the summer theme. Including them on the site involves an enormous amount of time, both in searching out the works and working with the artists to ensure their materials are displayed in a proper manner. Given both the time necessary in editing the website book and the uncertainty of what will happen with publication, etc., I have decided to suspend Guest Artist works for this summer. If the summer site returns next year, I am hopeful that the Guest Artist works will as well. Pages this summer will include "Best of . . ." materials which have appeared on the site since its inception in 2003. Visitors also are welcome to enter their best interpretation of "American Gothic," with details included below.
ENTER YOUR PICTURE IN THE SITE'S "AMERICAN GOTHIC" PHOTO CONTEST!"

AMERICAN GOTHIC. Probably the best known piece of American art with some type of a fork in it (a pitchfork) is Grant Wood's 1930 painting "American Gothic" (pictured here). Website visitors are invited to enter the site's first photo contest -- with their own interpretations of what "American Gothic" means to them. Pose the same way as the people in the painting or arrange your own version of the scene. Creative interpretations are encouraged (but please remember this is a site with visitors of all ages). The only rule for the content of the picture is that each photograph must contain a pitchfork or some other type of fork in it. If anyone chooses to come up with entries, they will be posted to the site (site management reserves the right not to post images which may be unsuitable for an all-ages audience), with voting open to site visitors toward the end of the summer. Images in jpeg format may be e-mailed to: americangothic@dorothyswebsite.org. Please use the phrase "American Gothic Photo Entry" in the subject heading. Include a name, e-mail and/or phone contact information, and if you wish, the city in which you live. A short explanation of the photograph or interpretation of the art is welcome but not required. Sorry, no prizes right now, but you'll have your image posted to the site through the end of September! Limit of two entries per person, and all submissions become the property of the site. Send an e-mail to the site at information@dorothyswebsite.org if you have any questions.

Follow www.dorothyswebsite.org on TWITTER!
"Like" www.dorothyswebsite.org on FACEBOOK!
Home |&nbsp Poetry | Essays | Free Concerts | Links | 2013 Extras | About the Site
Featured Artists | 2013 Website Special Guests | News