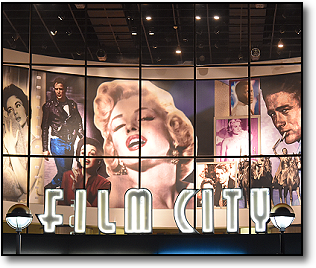 As an "extra" for site visitors, this page lists a few other things you can do, get or see for free this summer. The lists include everything from free movies and museum days to car shows and birthday treats. The page also incorporates the same type of information as found in the site's Twitter postings during the rest of the year. (Twitter and Facebook postings also can be viewed on the News page.) Some events/activities may be open only to residents of certain cities; others are open to the general public. Check with the sponsoring venue if you are unsure. The list below is a dynamic list; it is updated over the course of the summer as information is received. Input from visitors is welcome, too! (Latest and Final Summer Update: Sept. 20)
Click on a category below to go directly to an "Extras" section, or continue scrolling down the page.
ART WALKS/ART OPEN HOUSES
CAR SHOWS
FARMERS MARKETS
FROM TOTS TO TEENS AND FAMILIES
HAPPY BIRTHDAY !
LECTURES/LECTURE SERIES
LIBRARIES
MISC. FREE PRODUCTS, SERVICES, AND WEB OFFERS
MOVIES
MUSEUMS
NATURE CENTERS/PROGRAMS/EVENTS
SENIORS
SHAKESPEARE/THEATER/PERFORMING ARTS/MUSIC
SPECIAL EVENTS/OTHER
DANCE/SPORTS/RECREATION
---
If your city has a monthly or regularly-scheduled arts open house/art walk you'd like listed, please send an e-mail message to the site using the link at the bottom of the page. Information will be posted as it is received!
Several area Farmers Markets have weekly entertainment, though not always music. Markets with occasional entertainment or for which no published band schedule has been located will be listed here. If a schedule is forwarded, the concerts will be listed in the regular concert listings portion of the site.
FROM TOTS TO TEENS AND FAMILIES
Having a birthday soon? Why not celebrate? Many organizations offer free food or other goods on your birthday if you give them an e-mail address/join their e-clubs. Examples of some available offers are listed below. Be sure to read all the details/conditions on the company/organization's website before agreeing to any offers. Offers may change periodically without notice.
MISC. FREE PRODUCTS, SERVICES AND WEB OFFERS
Many local and national companies and organizations provide special free offers during the year. Some are open to all; some are open only to specific audiences. Check for availability. Most, but not all, require some type of online registration or submitting an e-mail address to qualify. Read all details/conditions of offers before accepting, as offers may change periodically without notice. Some of the recently-available offers/products/services include:
Some of the most popular free summer programs are the free outdoor summer movies offered by many cities or organizations. Most of the city-sponsored movies are "G" or "PG" rated family films. Some of this summer's movies include (with many more to come):
The following is a partial listing of free museum days. It is recommended that you confirm the availability of all events/open days prior to visiting the museum since free entry days and times may change periodically.
SUMMER ONLY
BROAD MUSEUM OPENING (ONGOING AFTER SEPTEMBER 20) - The Broad Museum in downtown LA on Grand will be opening on September 20. Opening day is sold out; free reserved, timed tickets may be reserved at the website listed. Information: www.thebroad.org/tickets

SMITHSONIAN MAGAZINE MUSEUM DAY LIVE! - Once a year the Smithsonian Magazine offers free admission for two people to any participating museum. This year's Museum Day Live! will take place on September 26. See the list of this year's participating museums and reserve tickets at the website listed. Information: www.smithsonianmag.com/museumday
ONGOING
BOWERS MUSEUM - Target Sundays are every first Sunday of the month. General admission to the museum is also free, and family programs are generally from about 12:30 - 3 p.m. (see concert pages). Museum address is 2002 N. Main Street in Santa Ana. Information: (714) 567-3100 or www.bowers.org

CALIFORNIA AFRICAN AMERICAN MUSEUM - Target Sundays are every first Sunday of the month. Hours are 11 a.m. - 5 p.m. Live programs generally begin about 1 p.m. General admission to the museum is also free. Museum address is 600 State Drive in Exposition Park (Los Angeles Coliseum area). Information: (213) 744-2132, (213) 744-7432 or www.caamuseum.org
CALIFORNIA SCIENCE CENTER - There is free admission to all permanent exhibition galleries at the California Science Center (excludes IMAX and special exhibits). The museum address is 700 Exposition Park Drive (Los Angeles Colisum area). Information: (323) 724-3623 or www.californiasciencecenter.org
CHINO YOUTH MUSEUM - The Chino Youth Museum offers Free First Friday programs from 3 - 5 p.m. Programs include art projects, snacks, time to explore the museum, exhibits and entertainment. Also for July, first 1000 people at Museum get in free. The museum is located at 13191 6th Street in Chino, one block north of the Chino Transit Center. Information: (909) 464-0499.
FIRE STATION/MUSEUM OPEN HOUSES - Two area historical fire stations offer free tours on Saturdays. In San Pedro, Old Fire Station 36 (located at 638 Beacon Street) is open from 10 a.m. - 3 p.m. In Hollywood, Old Fire Station 27 is open from 10 a.m. - 4 p.m. Both offer a variety of artifacts and exhibits. Information: (323) 464-2727 or www.lafdmuseum.org.
THE GETTY CENTER - Free admission; parking is $15, but $10 after 5 p.m. The museum does not require parking reservations. Off the 405 Freeway at Getty Center Drive. There are a variety of art-related and storytelling activities for children and families, free programs, lectures and movies, and more. See the museum's calendar for listing of events and programs. Information: (310) 440-7300 or www.getty.edu
GRIFFITH OBSERVATORY - There is no admission charge to enter the observatory, but a fee for planetarium shows. Monthly public star parties offer the public a chance to try out telescopes and talk with amateur astronomers from 2 - 9:45 p.m. Check for upcoming star party dates. Information: (213) 473-0800 or www.griffithobservatory.org
HOMESTEAD MUSEUM - Free admissions and programs like behind-the-Scenes tours and children's storytelling hours. Some programs require reservations. The museum is at 15415 East Don Julian Road in the City of Industry. Information: (626) 968-8492 or www.homesteadmuseum.org.
HUNTINGTON LIBRARY, ART COLLECTIONS AND BOTANICAL GARDENS - Free admission the first Thursday of every month. Tickets are required and reservations become available on the first date of the month prior to the visit (i.e. reservations for the first Thursday in August become available starting July 1). Reservations for free days fill up quickly. Also, check monthly schedules for free lectures and other presentations. Information: (626) 405-2100 or www.huntington.org
THE IRVINE MUSEUM OF ART - The Irvine Museum of Art is a small OC museum dedicated to the preservation and display of California art of the Impressionist period (1890 - 1930). 18881 Von Karman Street, Irvine, Ground Level. Admission policy had changed; admission is free now only for seniors, students and children. Information: (714) 476-2565 or http://www.irvinemuseum.org/
LA HABRA CHILDREN'S MUSEUM - The Children's Museum at La Habra offers free admission on the first Saturday of each month for the Target Free Saturdays program. Check website for upcoming dates. Information: (562) 905-9793 or www.lahabracity.com/section.cfm?id=41.
LONG BEACH MUSEUM OF ART - Admission to the Long Beach Museum of Art is free every Friday. Museum address is 2300 East Ocean Boulevard. Information: (562) 439-2119 or www.lbma.org
LOS ANGELES COUNTY MUSEUM OF ART (LACMA) - Admission to the museum's regular exhibits is free every second Tuesday of the month and to LA County residents with ID after 5 p.m., 5905 Wilshire Boulevard, Los Angeles. A schedule of Target Free Holiday Mondays can also be found on the museum website, as well as information on other free lectures and performances. Information: (323) 857-6000 or www.lacma.org
MULTIPLE LOCATIONS - BANK OF AMERICA "MUSEUMS ON US" PROGRAM - Over 70 museums nationwide are now offering free admission on the first weekend of every month for anyone showing a Bank of America check, ATM or credit card. Visit website for list of museums. Information: www.bankofamerica.com/museums.
MUSEUM OF CONTEMPORARY ART (MOCA). Admission to the Museum of Contemporary Art is free on Thursdays from 5 - 8 p.m., 250 S. Grand Avenue. Information: www.moca.org.
THE MUSEUM OF LATIN AMERICAN ART - LONG BEACH Free Target Sundays programs include special activities each month with a variety of family-oriented art workshops and/or music. Address is 628 Alamitos Avenue. Information: (562) 437-1689 or www.molaa.org/
NATURAL HISTORY MUSEUM - The Natural History Museum, 900 Exposition Boulevard at Exposition Park in the downtown Los Angeles/USC campus vicinity, offers free museum admission every first Tuesday of the month. Information: (213) 763-3466 or www.nhm.org
NORTON SIMON MUSEUM - The Norton Simon Museum, 411 W. Colorado Boulevard in Pasadena, offers free admission from 6 - 9 p.m. on every first Friday of the month. Information: (626) 449-6840 or www.nortonsimon.org
ONTARIO MUSEUM OF HISTORY AND ART - The Museum is located in the Historic Old City Hall Building, 225 South Euclid. Hours are noon - 4 p.m., Wednesday through Sunday, and admission is free. Also a variety of art and public programs. Information: (909) 983-3198 or www.ci.ontario.ca.us
ORANGE COUNTY MUSEUM OF ART - The Orange County Museum of Art offers free admission on Fridays. There also are Target Free Second Saturday programs with free admission and family-friendly activities. The Museum is located at 850 San Clemente Drive near the Fashion Island shopping center. Information: (949) 759-1122 or www.ocma.net
PAGE MUSEUM AT THE LA BREA TAR PITS - The Page Museum allows visitors to watch fossil excavation and assembly and has interactive displays of the Tar Pits and Southern California during the Ice Age. Free admission day is the first Tuesday of the month (except July and August). The museum is located at 5801 Wilshire Blvd. Information: (323) 934-7243 or www.tarpits.org
SKIRBALL CULTURAL CENTER - The Skirball Cultural Center is open with free admission every Thursday, and also a variety of both free and fee performances and activities. Includes Passport Screenings of films one Saturday per month. The Center is located off the 405 Freeway at the Skirball Drive exit. Information: (310) 440-4500 or www.skirball.org
SOUTHWEST MUSEUM OF THE AMERICAN INDIAN - The Southwest Museum of the American Indian, part of the Autry Museum system, is open to the public from 10 a.m. - 4 p.m on Saturdays. The Museum is located in the Mt. Washington area at 234 Museum Drive. Information: (323) 667-2000 or www.theautry.org
UCLA FOWLER MUSEUM - The museum regularly offers free admission and a variety of free music, film and art-related programs. The Fowler Museum is located on the UCLA campus. Information: (310) 825-4361 or http://www.fowler.ucla.edu
UCLA HAMMER MUSEUM The museum offers a wide selection of lectures, poetry readings, music and other programs and performances. See the event calendar on museum website for a full schedule of events. 10899 Wilshire Boulevard at Westwood. Information: (310) 443-7000 or http://www.hammer.ucla.edu
NATURE CENTERS/PROGRAMS/EVENTS
SHAKESPEARE/THEATER/PERFORMING ARTS/MUSIC

Follow www.dorothyswebsite.org on TWITTER!
"Like" www.dorothyswebsite.org on FACEBOOK!
Home |&nbsp Essays | Poetry | Free Concerts | Links | 2015 Extras | About the Site
Featured Artists | 2015 Website Special Guests | News