Click here to read about the summer's FEATURED ARTISTS!


Visit the site's GUESTS page.


Click here for site NEWS.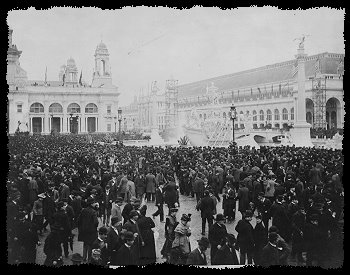 Each year special guests are invited to display works which express or interpret the summer theme. The works of this summer's Guest Poet have now been posted.
Click here to go to the links for the Guest Poet's poems, or continue scrolling down the page.
In the interim, the video link below is for a 3D re-creation of what the fairgrounds of the Chicago Columbian Exposition might have looked like in 1893. The event was called the Columbian exposition because it celebrated the 400th Anniversary of the arrival of Columbus in the country, as well as the nation's cultural and industrial progress. The picture on the left, also from the U.S. Library of Congress, shows the crowds on the opening day of the fair, May 1, 1893. The next U.S. world's fair, in St. Louis in 1904, was called the Louisiana Purchase Exhibition.

3D RE-CREATION OF THE GROUNDS OF THE 1893 WORLD'S FAIR BY UCLA

2014 GUEST POET - GABRIELLA MIOTTO
Each year the site presents the works of Guest Artists which in some way interpret or reflect the summer theme. This summer the site welcomes Guest Poet Gabriella Miotto. Click any of the links on the image below to read her poetry. You can find out more about her by visiting the site's Guests page.

Follow www.dorothyswebsite.org on TWITTER!
"Like" www.dorothyswebsite.org on FACEBOOK!
Home |&nbsp Essays | Poetry | Free Concerts | Links | 2014 Extras | About the Site
Featured Artists | 2014 Website Special Guests | News