Click here to read about the summer's FEATURED ARTISTS!


Visit the site's GUESTS page.


Click here for site NEWS.

The Links page has grown tremendously with the number of venues added to the listings and the number of artists appearing at the concerts. Several years ago it was the most slowly-loading page on the site. As a result, it was split into three sections. The first section contains links to the cities/venues hosting the concerts, as well as a small list of art and poetry links. The second section is a list of band links for the letters "A" through "L," and the third section is a list of band links for the letters "M" through "Z." Some cities/venues do not release their concert information until well into June or later (especially for series in August and September), so the Links section is continually updated during the summer as information is received. Click on a link below to go to one of the three sections.
• CITY AND ART/POETRY LINKS • • BAND LINKS A - L • • BAND LINKS M - Z •
The 1958 Expo in Brussels was the first major World's Fair after the end of World War II (only a smaller one was held in Port-Au-Prince, Haiti in 1949). The picture here, courtesy of the Atomium (www.atomium.be), shows the building as it is today. The Atomium guidebook also notes that "With the slogan building a world for the modern man, the event [1958 Expo] sent out a message of boundless optimism and attempted to reflect a society that was confident in its future and enthusiastic about the future of humanity." Further on in the text, the explanation of the 1958 event continues by saying, "With its national and commercial pavilions, Expo 58 was a window to the world. In spite of it message of peace and friendship between nations, this great festive event was not immune from the tensions of the Cold War in 1958. Beneath the Atomium, the United States and the Soviet Union (now Russia and the other nations of central Europe) defied each other in a symbolic confrontation. Both of them attracted curious, fascinated crowds. Pride of place at the centre of the Soviet Pavilion was given to Sputnik, the first artificial satellite, representing the success of communist society. Opposite this, the American Pavilion vaunted the American Dream, the consumer society and the comforts of modern life."

LINKS PART II - BANDS/PERFORMING ARTISTS A - L
* * PLEASE NOTE: Band links are added to the section on a continuing basis and updated throughout the summer, and "missing links" are filled in as websites are located. There are still many more names to be added and shows to be included. If you don't find the information you're looking for, please send an e-mail message to the site or try back a little later! * *
The information included in the section is in the following format: artist or band name, type of music, website/link and date(s) of performance(s). Details for concerts dates are included in the listings during the current month. All listings are alphabetical, and you can click on a letter below or scroll down the page to view the entire section of band links. Any information on band links which have not been located ("missing link") is appreciated.
#s | A | B | C | D | E | F | G | H | I | J | K | L
---
WALK A MILE IN MY SHOES

This year marks the 50th Anniversary of the signing into law of the Civil Rights Act of 1964. Earlier this summer a ribbon-cutting was held for the only monument in Los Angeles dedicated to the Civil Rights Movement. The public artwork sits in two places in the Baldwin Hills area separated by a mile, one at the intersection of Rodeo Road and Martin Luther King Jr. Boulevard, and the other at the intersection of Rodeo Road and Jefferson Boulevard. The part of the public artwork depicted below is of the installation at Rodeo Road and Martin Luther King, Jr. Boulevard. It focuses on national leaders of the Civil Rights Movement. The other, at Rodeo Road and Jefferson Boulevard, focuses on local Civil Rights leaders.
A tile mounted on the main portion of the artwork reads as follows: Walk a Mile in My Shoes (2014) is a public artwork by Kim Abeles and commissioned by the City of Los Angeles, Department of Cultural Affairs and Department of Public Works. "You can't really understand another person's experience until you've walked a mile in their shoes," is an American Indian saying, with variations known in many cultures. Located along the corridor of Rodeo Road, book-ended by Martin Luther King, Jr. Boulevard on the east and Jefferson Boulevard on the west, the artwork speaks of inspiration, empathy and "walking" as forward movement. This site [meaning the Rodeo/MLK, Jr. site] features the shoes of participants of the civil rights marches, colleagues of Dr. King, and a replica of his shoes. At the Jefferson/Rodeo site, the photographic tiles include shoes belonging to local leaders in Los Angeles, and show the many forms of community building that are possible for each of us. You can find out more about this project at the website walkamileinmyshoes.us
Continue scrolling down the page to view the photographs. Other images can be found on the "Band Links M - Z" page.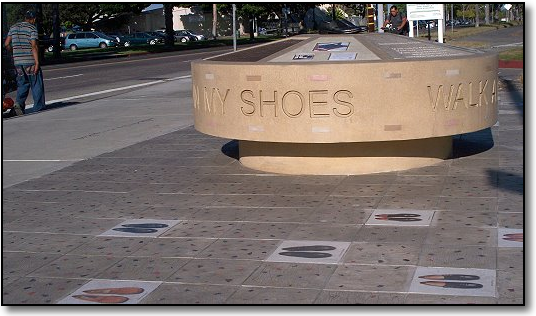 ---
Click here to return to the alphabetical links
Click here to return to the alphabetical links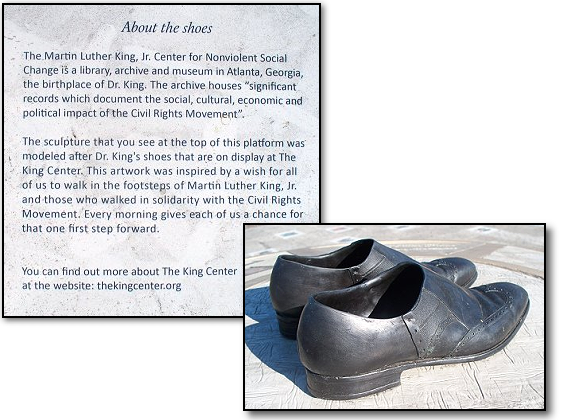 Though somewhat obscured in the picture above, the pair of shoes pictured here sits atop the main marker for the site. As explained in the image on the left, the shoe sculpture was modeled after the shoes of Dr. King which are on display at The King Center.
Click here to return to the alphabetical links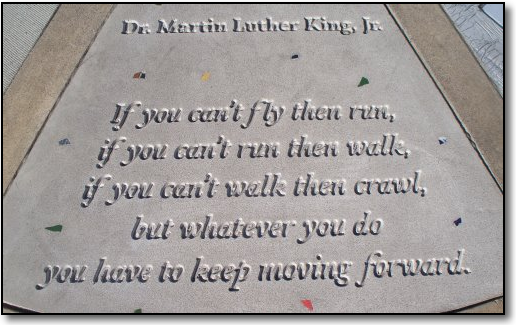 Sayings such as this one by Dr. King are etched into the main display area.
Click here to return to the alphabetical links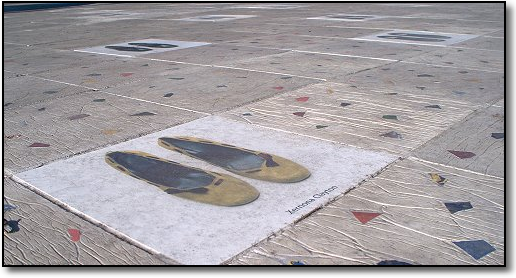 Tiles on the ground surrounding the main platform show a pair of shoes and the name of the person to whom they belong. A plaque on the main platform indicates that the shoes represented in the tiles are a "selection of shoes from the International Civil Rights Walk of Fame collection of Xernona Clayton."
Click here to return to the alphabetical links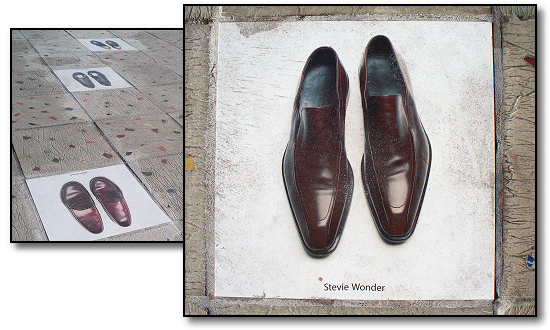 Another shot of the ground tiles (left), and an image of Stevie Wonder's shoes.
Click here to return to the alphabetical links
Click here to return to the alphabetical links
Another of Dr. King's sayings included on the main installation platform.
Click here to return to the alphabetical links
Hacienda Music
Music School
www.haciendamusic.org
July
The Haden Triplets
Country
www.hadentriplets.com
August
Haemil
Korean
www.haemilband.com
June
Hagen, William
Violinist
www.williamhagen.com
July
Haggins, Michael
R&B/Jazz
www.michaelhaggins.com
June, Aug
Haiko Municipal Arts Troupe
Chinese
www.hainamusa.org
June
Haley, Lisa/Zydecats
Zydeco
www.lisahaley.com
Aug, Sept 27
Hall, JD Band
Jazz
www.jdhallband.com
June
Hamilton High Jazz Combo
Youth Jazz
"missing link"
July
Hamlin, Griff
Blues
www.griffhamlin.com
Sept 6
Hamlin, Jones and IV
"missing link"
Sept 6
Hansen, Susie Latin Band
Latin Jazz/Salsa
www.susiehansen.com
June, July, Aug, Sept 7
Happy Crowd
Children's
www.happycrowd.com
July
Hard Day's Night
Beatles Tribute
www.harddaysnightband.com
June, July, Aug
Hard Rain
www.andyandrenee.com
June
Harlis Sweetwater Band
Americana
www.harlissweetwater.com
August
Harlow, Rosie
www.talltalemusic.com
July, Aug
Harmony
3 Dog Night Tribute
www.facebook.com/threedognighttribute
July
Harmony Sisters
40s/50s
www.harmonysisters.org
Aug, Sept 27
Harper, Suzanne
Country
"missing link"
July
Harvey, Jack Roberts Band
www.jackrobertsharveyband.com
August
The Hats
Jazz
"missing link"
Sept 19
Hawkline Monster
www.hawklinemonster.com
July, Aug
Hayes, Otis Quartet
Jazz
www.otishayes.com
June
He, Bei Bei
Chinese
"missing link"
July
Head, Brian
Guitarist
www.music.usc.edu/brian-head
Sept 7
Healy, Scott
Jazz
www.bluedogmusic.com
August
Heart-N-Soul
Latin/R&B/Dance
www.myspace.com/heartnsoulbandmusic
June, Aug
Heart Brigade
Heart Tribute
www.heartbrigadeband.com
July
Heart of LA Big Band
Big Band
"missing link"
August
Heart to Heart
Heart Tribute
www.hearttoheartatributeband.com
August
Hedgehog Swing
Gypsy Jazz
www.facebook.com/hedgehogswing
June, Sept 27
Heffron Drive
www.heffrondrive.com
August
Helix Collective
Classical
www.helixcollective.net
June, Sept 3
The Hellhounds
www.reverbnation.com/thehellhoundsrock
July
Hempstring Orchestra
www.hempstringo.com
Aug, Sept 26
Henebry, Mike Orchestra
Big Band
www.mikehenebryorchestra.com
August
Henebry's 1920 Crazy Rhythm Hot Society Orchestra
Big Band
www.crazyrhythm.com
August
Henry, Shane
Singer - Songwriter
www.shanehenry.com
August
Heritage Oak School
Youth Orchestra
"missing link"
August
Hermanos Herrera
Latin
www.hermanosherrera.com
Sept 12
High Strung Band
Country
"missing link"
June, Aug
High Tide
Surf
"missing link"
June, July
High-D Boys
Folk/Comedy
www.highdboys.weebly.com
Sept 4
Higher Ground
R&B
"missing link"
August
Highway 61 Revisited
Dylan Tribute
www.highway61revisited.com
June
Highway 91
Classic Rock
"missing link"
July
Hill, Sam Duo
Flute/Guitar
"missing link"
August
Hindsight
www.facebook.com/hindsight.classicrock
July
Hip Street
Tower of Power Tribute
www.facebook.com/pages/hip-street/...
July, Aug
Hite, Amy
Guitarist
www.amyhiteguitar.com
July, Aug
Ho, Chris Band
Jazz
www.chrisho.com
June
Ho'Aloha Dancers
Polynesian
"missing link"
August
Hobart Ocean
www.hobartocean.bandcamp.com
August
The Hodads
Surf/Beach
www.hodads.com
July, Aug
Holley, Dorian
World Beat Soul
www.dorianholley.com
August
Hollowell
Alt Rock
www.hollowellmusic.com
June, Aug
Hollywood Combo
Blues
"missing link"
Sept 25
Hollywood Hillbillies
Country
www.reverbnation.com/hollywoodhillbillies
Aug, Sept 12
Hollywood Stones
Rolling Stones Tribute
www.hollywoodstones.com
August
Hollywood U2
U2 Tribute
www.hollywoodu2.com
July, Aug
The Holophonics
www.theholophonics.com
August
Hommel, Steve Quartet
Jazz
"missing link"
July
Honey Whiskey Trio
www.honeywhiskeytrio.com
July
Hopkins, Dustin
Rock/Soul
"missing link"
August
Hot August Night
Neil Diamond Tribute
www.hotaugust.com
June, July, Aug
Hot Club of Detroit
Jazz
"missing link"
August
Hot Club of LA
Gypsy Jazz
www.hotclubofla.com
July
Hot Rod Trio
Rockabilly
www.thehotrodtrio.com
July
Hotel California
Eagles Tribute
www.hotelcal.com
August
Hotsy Totsy Boys
20s
www.hotsytotsyboys.com
July
Hound Dog Dave/Mel-Tones
American Roots
www.reverbnation.com/hounddogdave andthemeltones
June
House Party
Variety
www.housepartyrocks.com
July, Aug
How2
www.taylorandtannermusic.com
August
Huh, Inyoung
Pianist
www.laphil.com/philpedia/inyoung-huh
Sept 14
Hula Girls
Surf
www.facebook.com/thehulagirls
Sept 14
Hunter Hunted
Alt Rock
www.hunterhuntedmusic.com
Sept 20
Huntington Beach Concert Band
Concert Band
www.hbconcertband.org
June, Aug
Hundley, Lindsey
www.lindseyhundley.com
July
Hutchins Consort
Classical
www.hutchinsconsort.org
June
Hyland, Bryan
Country
"missing link"
July
Hyperion Outfall Serenaders
Dixieland
"missing link"
July
Click here to return to the alphabetical links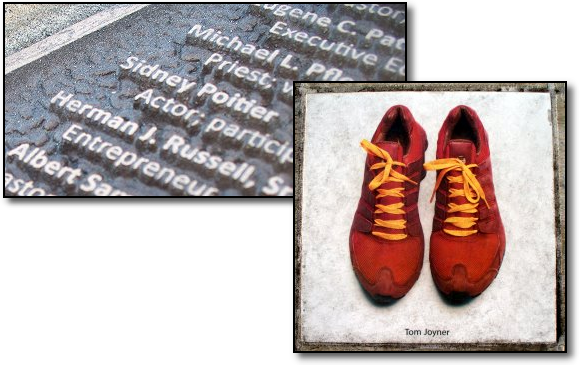 An image of the shoes of Tom Joyner (right), and a portion of a plaque on the main installation platform listing some of the national figures of the Civil Rights movement.
Click here to return to the alphabetical links
Click here to return to the alphabetical links
Click here to return to the alphabetical links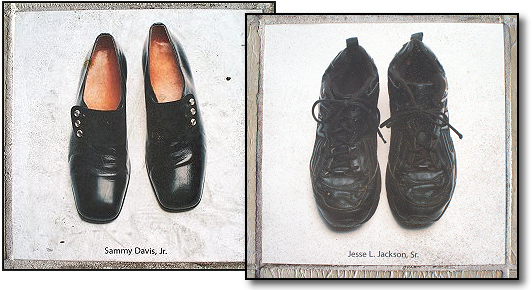 Images of the shoes of Sammy Davis Jr. (left) and Jesse Jackson Sr. (right).
To return to the top of the page, click here.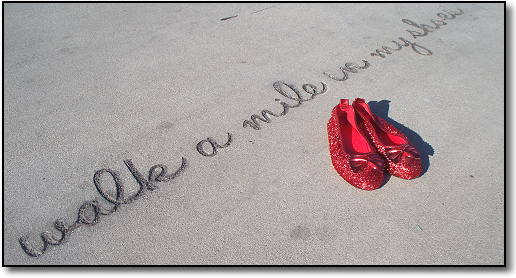 The phrase "walk a mile in my shoes" is etched into the concrete near the street. The shoes aren't part of the official display, but are the "dorothyswebsite" ruby slippers from the home buttons (if you've never seen them, place your cursor over the "Home" link below). Took a picture as a reminder of the visit to the monument.


Follow www.dorothyswebsite.org on TWITTER!
"Like" www.dorothyswebsite.org on FACEBOOK!
Home |&nbsp Essays | Poetry | Free Concerts | Links | 2014 Extras | About the Site
Featured Artists | 2014 Website Special Guests | News