Click here to read about the summer's FEATURED ARTISTS!


Visit the site's GUESTS page.


Click here for site NEWS.

Each summer special guest artists are invited to exhibit works on the site which either express or in some way interpret the summer theme. This year's Guest Artist profiles are listed below. MANY THANKS TO ALL THE 2014 WEBSITE SPECIAL GUESTS! Click on one of the stars in the box below to read about a Guest Artist, or continue scrolling down the page. Due to circumstances beyond my control, there will not be a Guest Painter for 2014, but hopefully a Guest Painter will be included again in 2015!
The original agreements with all summer artists was for works to appear on the site through the end of September 2014. Artists to date who have given their consent for their artworks/poetry to remain on the site for a longer period of time are included below.
Also, in conjunction with the book which has been written about the site, all past summer websites have been recoded and reposted. They can be accessed on the Book Preview page. Past Guest Artists have been invited to have their works reposted as they originally appeared on the site during the summer in which they were guests. Those works which have been reposted are listed on the site's Facebook page (you'll need to scroll down a bit), or you can visit the "Guests" page in each of the past summer sites.
GUEST PHOTOGRAPHER MARK CHAMBERLAIN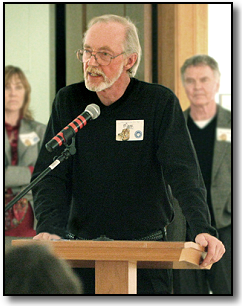 Mark Chamberlain is a multi-talented artist, author, curator, inventor and builder who for over 40 years has focused on crafting BC Space Gallery into one of the most enduring and respected galleries in the country. The primary thrust of the gallery has been to promote the advancement of contemporary photography while addressing critical social, political and environmental issues. The accomplishments of the gallery were recently outlined in a book entitled "BC Space: Mything in Action," published by Cal State Fullerton in the fall of 2013, and Mark is being awarded the Helena Modjeska Artistic Visionary Cultural Legacy Award for lifetime achievement by Arts Orange County in October of this year.
Chamberlain's many long-term projects are as diverse as they are interesting. With partner Jerry Burchfield (the B of BC, now deceased), he created "The Laguna Canyon Project: The Continuous Document" which recorded Laguna Canyon Road over a 30-year period. He also has spent thirteen years documenting the transition of the El Toro Marine Corps Air Base into the Orange County Great Park, slated to be one of the largest urban parks in the country. As a part of this project, "The Legacy Project," in 2006 the six-member photography team created The Great Picture by converting a shuttered aircraft maintenance hangar into the world's largest camera obscura to create the largest gelatin silver print in history. The three story by eleven story analog photograph is currently on display at the Smithsonian National Air and Space Museum in Washington, D.C. Since 2000, Mark has been documenting the entire length of the Mississippi River. Although this "River Tales" project originally was intended to be a nostalgic exploration of life on the river, the issue of environmental degradation has become an unavoidable adjunct to the journey. You will find Chamberlain's photographs from his "Future Fossils" and "The Legacy Project" portfolios on the "All Cities By Date" concert page. Click here to visit that page now. To learn more about Mark Chamberlain and the BC Space Gallery, visit www.bcspace.com.
GUEST GRAPHIC/COLLAGE ARTIST VINCENT MATTINA
Artist's Statement: "My artwork focuses on technological and spiritual issues. In my art, I explore the overwhelming presence of the digital age and its ongoing impact on the fabric of our contemporary lifestyle. I am concerned with subjects as diverse as biomechanics, human experimentation and the ever-expanding realm of the Steampunk. My work reproduces familiar visual cues and arranges them into densely symbolic representations." Mattina's richly detailed works transport you to an alternate reality where science, nature and spirituality evolve.
Born in St. Louis, Vincent Mattina began his love affair with art at a very early age. When he was first able to hold a pencil he knew he loved drawing. Throughout his early years and into high school, his love of art captured his soul. His passion led him to Columbus College of Art and Design, and he was graduated with a BFA in Fine Art and Illustration. In 1990 he moved to the Los Angeles area and gained recognition in the commercial art world by working at companies in the fashion, marketing and advertising industries. Feeling the need to express himself as well as having a visual story to tell, he branched out into the fine art world. He first exhibited his "Entomechanical" series intertwining nature and machines, a series which was inspired by photorealism, digital collage and technology. Since then he as ventured into the Steampunk movement, and his "Professor Flux Repurposed Ray-Guns," have been shown at galleries and museums in Southern California. His Flux works combining illustration, photographs and digital manipulation have been shown in galleries and museums throughout the area, and his images grace the homes of various collectors. To learn more about Vincent Mattina and see more of his art, visit his website at www.vincentmattina.com. You will find his artwork on the "Los Angeles County By Date" concert page. Click here to visit that page now.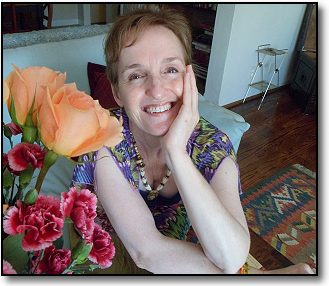 Gabriella Mariafiore Miotto is a family physician who has worked in community medicine in California, Alaska, Mexico, Guatemala and the Balkans. She is an active member of the Laguna Poets Workshop, and her poetry has appeared in "Pop Art: An Anthology of Southern California Poetry" (Moon Tide Press, 2010) and "Bearing Witness and Healing Through Creativity" in Family Medicine. In addition to being a poet she also is a photographer, and her photography, particularly of the environment in Antarctica, has been published in The New Yorker and Biography, as well as other international publications.
Miotto currently is on the clinical staff of The Children's Clinic in Long Beach, where her passion for poetic imagery informs her daily work with her patients. She lectures and conducts workshops on the topic of the use of poetic imagery in medicine and healing, speaking with both health professionals and the general public. Some of her lectures and presentations have included "Storytelling in Medicine: Shadows and Muses" at the UC Irvine Medical School Gold Humanism Awards, "The Use of Poetic Imagery in Medicine" at McGill University, "Healing and the Imagination" at Iowa State University, and "The Landscape of Health: Medicine, Poetry and Human Rights" at Drexel University, among others. If you'd like to contact Gabriella Miotto, you may reach her by e-mail at gmiotto@hotmail.com. To read her poetry, visit the Guest Poet page. Photo credit: Soudi Ashrafi.
GUEST VISUAL/MIXED MEDIA ARTIST CYNTHIA MINET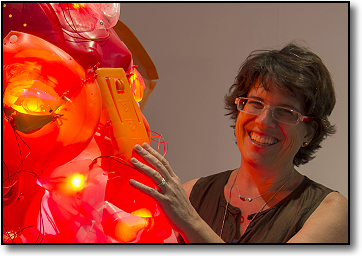 Cynthia Minet's mixed media sculptures, drawings and installations combine an interest in scientific and ecological issues with an investigation of materials. Her artworks have been exhibited both in the USA and internationally. Most recently, her illuminated sculptural installations have been displayed at the Anchorage Museum, Alaska, Muzeo in Anaheim (through August 31), the Los Angeles International Airport, UC Riverside's Culver Center for the Arts, the Huntington Beach Art Center, the Museum of Natural History, Los Angeles, and at GATE Projects, Glendale. International group exhibitions include a collateral event of the Venice Biennale (2009), and museum shows in Minsk, Belarus, Ameila, Italy, and several venues in Israel. Additionally, Minet has participated in two international artist residencies: in Denmark and in the Netherlands. Her work has been reviewed in and featured on Discovery Channel Canada, Weird Planet, Wired Magazine, the Los Angeles Times, the OC Register, and in several other publications, both in print and online.
Minet, a professor of studio art at Moorpark College, lives with her husband and daughter in Los Angeles. You can see her "Unsustainable Creatures" sculptures on the Extras page. Click here to visit that page now. To learn more about Cynthia Minet, visit her website at www.cynthiaminet.com. Photo credit: Martin Cox.

Follow www.dorothyswebsite.org on TWITTER!
"Like" www.dorothyswebsite.org on FACEBOOK!
Home |&nbsp Essays | Poetry | Free Concerts | Links | 2014 Extras | About the Site
Featured Artists | 2014 Website Special Guests | News