2012 WEBSITE SPECIAL GUESTS
Each summer special guests are invited to exhibit works on the site which either express or in some way interpret the summer theme. This year's theme has been "Animal Magnetism." Many thanks to all the 2012 Website Special Guests!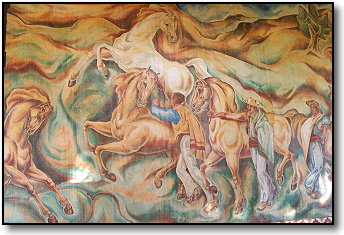 The art depicted above is a portion of a fresco entitled "Pastoral California." It was a federal Works Project Administration (WPA) art project created in 1934 on the walls of Plummer Auditorium at Fullerton High School by artist Charles Kassler II and depicts the traditions of pastoral California. The entire fresco, which depicts more than 70 people, 16 horses and a menagerie of other animals, was whitewashed only four years after it was created, but it was restored and rededicated in 1997. Among the scenes depicted are ones of Jose Antonio Yorba, whose original land grant covered the area, and caballeros around him participating in various games and contests involving horses and their riders. Horse racing was the most popular sport during California's rancho period, and contests on horseback were commonplace.
Charles Kassler painted the two largest frescoes done by one person under the federal WPA. One, "The Bison Hunt," was painted at the children's court of the Los Angeles Public Library but has been lost to weather damage. "Pastoral California" was the larger and more intricate of the two, and other scenes depict a bull and bear fight, Pio Pico, the last Mexican Governor of California, and Laura Moya, a popular singer of the time. It is thought that Kassler's second wife, Luisa Espinel, was used as a model for Laura Moya. Espinel is the aunt of singer Linda Ronstadt. (Many thanks to the local history room staff at the Fullerton Public Library for providing the historical context for the fresco).


The site welcomes this year's Guest Photographer. You can find her wildlife images on the "All Cities By City" concert page. Click here to visit that page now.
GUEST POET CHARLES HARPER WEBB

Charles Harper Webb's poems have appeared in Paris Review, American Poetry Review, Ploughshares, Harvard Review, the Pushcart Prize series, and numerous other literary magazines and anthologies. His latest book is Shadow Ball: New and Selected Poems, published by the University of Pittsburgh Press in 2009. What Things Are Made Of, also from the University of Pittsburgh Press, is forthcoming in 2013. His book Amplified Dog, from which the poems appearing on the site are drawn, won the 2004 Benjamin Saltman Poetry Award and was published by Red Hen Press in 2006. You can read the poems by starting at the "Guest Poet" page. Click here to visit that page now.
Recipient of grants from the Whiting and Guggenheim Foundations, and Editor of Stand Up Poetry: An Expanded Anthology, Webb has been called "Southern California's most inventive and accessible poet" by Lifescape Magazine. National Public Radio has said that Webb is "A man with a mission to bring poetry back to the people," and Maura Stanton has called him "a major poet of the twenty-first century whose work is both complex and accessible." He teaches in the MFA Program in Creative Writing at California State University Long Beach, where he has received both the Distiguished Faculty Scholarly and Creative Achievement Awards, the Distiguished Faculty Teaching Award, and the 2009 Provost's Award for Outstanding Impact Accomplishment in Research, Scholarly or Creative Activity. Webb also was a professional singer/rock guitarist for fifteen years and a practicing psychotherapist for ten years. He received an undergraduate degree from Rice University, an M.A. from the University of Washington, and an M.F.A. and Ph.D. from the University of Southern California.
This year the site presents the works of a guest pointillist. Images of his work can be found on the "All Cities By Date" concert page. Click here to visit that page now.
GUEST SCULPTOR JOHN H. STEWART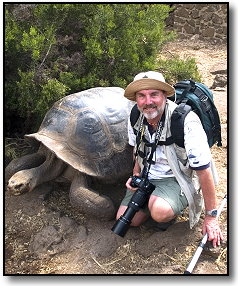 Artist's Statement: "We share this planet with so many fascinating other species. The beauty of nature awes me. I am constantly looking at my environment and the things that surround me. I try to create a replica of what I see in nature with authentic and accurate representation, looking for that one fleeting moment that depicts the innermost nature of the creatures I am sculpting. I use the images I capture in my travel experiences to craft sculptures that depict my passion for our environment. I create each sculpture with a 360 degree view; I want it to be a new experience from all angles. It is a great opportunity to share with others the fantastic things I have seen and how I have seen them in my own mind." The sculptures can be found on the "Concerts By Music" page. Click here to visit that page now.
Sculptor John H. Stewart of Newport Beach has been involved in art for more than 40 years and is a self-taught sculptor and naturalist, as well as an avid SCUBA diver. He began experimenting with photography as a child, and over the years his camera has travelled with him across the U.S. and abroad, as well as on SCUBA trips in California and the Caribbean. He created his first sculpture in 1997 after watching other sculptors in New Mexico. His diving trips and love of marine life give him a volume of experience to sculpt and share with others. He has an eye for the movement and habitats of the animals he observes, and this is displayed in the attention to detail of the animals and their environment which he depicts. To find out more about John H. Stewart and his sculptures, visit his website at www.westbaystudio.com.



Follow www.dorothyswebsite.org on TWITTER!
"Like" www.dorothyswebsite.org on FACEBOOK!
Home | Poetry | Essays |&nbsp Free Concerts | Links | 2012 Extras | About the Site
Featured Artists | 2012 Website Special Guests | News