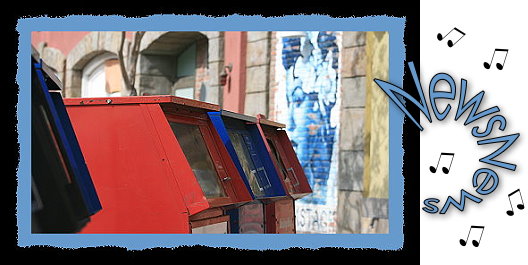 NEWS
Welcome to www.dorothyswebsite.org for Summer 2010, the site's eighth summer. For those of you who are return visitors, welcome back! Welcome, too, to those of you who are here for the first time. This page is THE place to find important reminders and news of the site! This includes information about what's new during the summer and about the month-to-month changes taking place. Please check back periodically - you can get to this page directly from the Home page and all the other major sections. (Latest Update: September 26 - LAST SUMMER UPDATE!)
FOR FIRST-TIME VISITORS: This site contains a monthly listing of free concerts and music-related events in Orange County and parts of Los Angeles County and the Inland Empire. Most of the events listed are offered to the general public or residents of certain cities free of charge. Events in clubs, bookstores, cafes and other similar venues covered elsewhere generally are not included. You can start your visit to the concert listings by clicking on the "Free Concerts" link above. From there you will find directions on how to find concert information. Please take the time to look through some of the other areas of the site as well: read an essay or a poem, view the work of the summer guests or take a look at some of the "Extras" (a few other things you can find for free during the summer). NEVER BEEN TO A SUMMER CONCERT? It's simple . . . pack a picnic dinner or buy a meal at the concert venue, bring a blanket or beach chair (or call the venue to ask about their seating policy), and sit out under the stars and listen to some great music!

FOR EVERYONE: Welcome to the last update for Summer 2010! Summer went by quickly, and the last full day of the summer site will be September 30. The fall/winter/spring site, in its more compact format, will return on October 1 (there will not be a preview page posted prior to that date). Full October listings will be available by the end of the day on the 1st. The concerts-by-date pages are updated with preliminary information for the coming weekend. This week's final update brings not only information on the first few days of October, but also the last of the summer festival photos. If this weekend's photos haven't posted by the time you are reading this, they should be available shortly. You can find all festival photos on the county-by-city pages: "L.A. County By City," "Orange County By City" and "Inland Empire By City". There is also a brief update for the August essay with additional information on uses of solar energy in local cities. You can find the information just above the Footnote area in the essay. Thank you for visiting www.dorothyswebsite.org this summer, and it was a pleasure seeing and speaking with some of you at the concerts. Please check back Friday for the return of the Fall/Winter/Spring version of the site!
A NOTE ON SUMMER 2010: Last year many cities and organizations cancelled or cut back summer programs, including concert programs. Although we are very fortunate for the cities and organizations which have been able to continue with their summer concert programs, many of the series cancelled in 2009 have not returned this year. As with last year, many of the concerts and other activities taking place (movies, etc.) are able to continue only through the generous support of program sponsors. Please support and thank all the sponsors of these programs, whether they are cities, community organizations or area businesses. Some areas of the site have been adjusted this year to incorporate changes which have taken place, and you can read about those changes below. Thank you for your understanding, and enjoy the summer!
• Guests - Each year special guests/artists are invited to display works which either express or interpret the summer theme. Many thanks to the 2010 Guests for allowing their works to appear on the site. You can read more about all of them on the site's "Guests" page.
• Featured Artists - Featured Artists are musicians or concert series drawn from the summer concert performances. Two Featured Artists are named each month, one for the first half of the month and one for the second half. Thanks to all the 2010 Featured Artists! Click here to visit the Featured Artists section now.
• New Concert Listings Page - Concert listings on the summer site have always been divided by city and date, for all cities combined and for each of the three areas covered (Los Angeles County, Orange County and the Inland Empire). Over the years, some viewers have requested a page listing the concerts by type of music. Trying to separate the concerts by type of music (without adding a search function) has been problematic for several reasons. First, some cities and venues do not list information on the type of music for every concert, only the band/artist name. Second, some bands list the type of music they play in widely divergent categories (such as R&B/Dance/Latin Jazz), making it difficult to place them in any one format. Finally, some cities/venues with events featuring multiple bands do not list any of the groups individually, using phrases such as "live music all day long." Still, there will be a test page this year for Concert Listings by Type of Music. It is a test page for 2010, and any input viewers would like to provide would be appreciated. Click here to go to the 2010 test page.
• Concert Listings and Updates - Concert listings are updated on Sunday nights during the summer (and on Thursday nights during the rest of the year.) For those of you who have been here before and are just checking in to see what's new, you can use the links below to go directly to your favorite concert pages:
All Cities By City All Cities By Date
Los Angeles County By City Los Angeles County By Date
Orange County By City Orange County By Date
Inland Empire By City Inland Empire By Date
• 2010 Theme - "Octave: Music, Summer-Style"
When the site was first started in 2003, there was no way of knowing how the site would evolve, or that the concert page(s) would come to be as popular as they have become today. In 2010, www.dorothyswebsite.org celebrates its eighth summer - a completion of its first "octave" of years. So . . . this summer the theme is all about music (with some reflections on both summer and style to come as well).
Although the many programs which have been cut back or cancelled will be missed, the fact that so many venues have been able to continue their summer music traditions in these uncertain economic times definitely is something to celebrate. Summer is truly a special time when it comes to the music as well. Sitting in a park under the stars, or by the beach, or in the glow of the city lights and listening to great music is something almost anyone can enjoy. Here's to the sponsors presenting the concerts, the bands and artists performing at them, and all of you who keep coming back year after year to listen to the music play! It's time once again to dust off those beach chairs and pack up the picnic baskets, because Summer 2010 has arrived!
ONE FINAL THOUGHT ON THE CONCERTS: All of the concerts in the listings are free to the general public, and there are some truly outstanding programs. However, many of the groups and organizations sponsoring these concerts incur substantial costs in bringing them to you year after year. Donations which allow them to continue their tradition of bringing quality music to the general public at no charge are appreciated.
. . . AND ONE REQUEST FOR VISITORS: Survey forms are sometimes passed out at concerts/event venues, and the question "How did you hear about this event?" is often asked. If you are attending an event you found on this site and receive such a form, it would be much appreciated if you let them know that you found the information on www.dorothyswebsite.org. Thank you!

Follow www.dorothyswebsite.org on TWITTER!
Home | Poetry | Essays |&nbspFree Concerts | Links | 2010 Extras | About the Site
Featured Artists | 2010 Website Special Guests | News