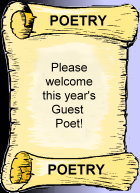 Click here to see the 2009 Featured Artists!

Visit the site's Guests page.

Click here for site NEWS.
GUEST POET
ach summer special guest artists are invited to exhibit works which interpret or express the site's theme in some way. This year's Guest Poet has graciously consented for five of her poems to appear on the site. Four poems are from a 2008 book, and one is from her newest book.

2009 GUEST POET
In some of the stories included on this year's site, the subject of "home" has figured prominently. Dorothy was trying to get back to her home in Kansas in "The Wizard of Oz," Ulysses struggled through a long journey home in "The Odyssey," and now this year's Guest Poet bring us scenes from a family history in verse. Her debut collection of poems is a collection of poetry reflecting on her native home state, lyric tales of a region she loves and knows well. Four of the poems presented here are from that book, and the last poem is from her newest book. In addition to being a poet, she also is a painter, and many of her works accompanied the poetry in the first book. You can also read more about the Guest Poet on the "Guests" page.

PLEASE NOTE: SINCE THE ARTWORK ON THE GUEST POET PAGES FOR THIS YEAR CENTERED ON THE GUEST POET'S OWN PAINTINGS, THOSE PAGES WILL NOT BE AVAILABLE FOR VIEWING AT THIS TIME.
POEM #1
POEM #2
POEM #3
POEM #4
POEM #5

Home | Essays | Poetry |&nbspFree Concerts | Links | 2009 Extras | About the Site
Featured Artists | 2009 Website Special Guests | News