2009 WEBSITE SPECIAL GUESTS
ach summer special guests are invited to exhibit works on the site which either express or in some way interpret the summer theme. This year's theme is "A Storied Summer." Read more about the theme at the bottom of the page, and please welcome the 2009 Website Special Guests: Guest Photographer, Guest Poet, Guest Sculptor, Guest Puppeteer and Puppets, and Southern California Storytellers.


GUEST PHOTOGRAPHER: Robert Kawika Sheer (www.sheerentertainment.com) is a South Bay photographer who was born in Southern California and raised in Honolulu, Hawaii. He was graduated from Loyola Marymount University's Film School in 1985 then attended the Photography School at Santa Monica College on-and-off for ten years while working in the motion picture and television industries. While working for the Discovery Channel in 2000, Robert discovered his Spirit Shadow photography process. A year later he married Ingela (also a professional photographer), who he had met during a SMC Photography Department camping trip, and together they have built their Spirit Shadow photography business.
"Spirit Shadows" are all real photographs created by artist Robert Kawika Sheer. No digital manipulations or multiple exposures are used in their creation. All photographs are taken in nighttime darkness with long single exposures lasting from one minute to up to seven hours. Sheer's equipment is a half-century-old 4x5 view camera and a tripod. The images are available as limited edition photographs, and his works have been incorporated in a new coffee-table book entitled "Spirit Shadows." You can view his photographs on the "All Cities By City" concert page. Click here to visit that page now.

GUEST POET: You can read her poetry beginning on the "Guest Poet" page. Click here to visit that page now, and click any of the links on the page to read the poems.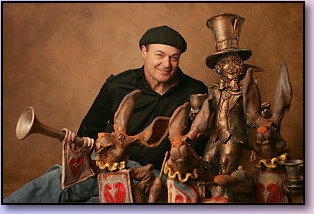 GUEST SCULPTOR: Michael Ezzell (www.michaelezzell.com) is a ceramic sculpture and metal and glass artist based in Laguna Beach. He was born in Harligen, Texas, and attended Orange Coast College. After college Michael began an apprenticeship with Yacht Pottery on the island of Bornholm in Denmark. He later accepted a teaching position in Exeter, England, where he studied with David Greene. His works have been exhibited at the Scottsdale Art Museum, Laguna Beach Festival of Arts, Beverly Hills Affaire in the Gardens, Tempe Festival of Arts, and the La Jolla Arts Festival, to name a few. He has received numerous awards for his work in his four decades as an artist, and his new works are on exhibit at the Studio Arts Gallery in Laguna Beach.
All the works appearing on the site are original creations of Michael Ezzell and are made completely by hand. No molds are used. Each piece is hand thrown and/or sculpted. He often uses metal surfaces in his work, including bronze and steel. Some pieces are burnished and sagger-fired. Cathedral stained glass and wood may also be used in the pieces. Ezzell says of his work that "Through ceramics I am able to shape my visions into reality, bringing my imagination to life." You can view pieces from his "Wonderland Collection" on the Extras page. Click here to visit that page now.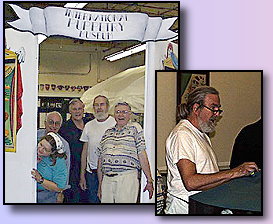 GUESTS ALAN COOK AND THE PUPPETS OF THE INTERNATIONAL PUPPETRY MUSEUM: In the fall of 1999, a group of puppeteers, producers, business professionals and lovers of puppetry came together to form a steering committee with the goal of creating a non-profit center in Southern California to promote, preserve and advance puppetry as an art form. An organization called the Conservatory of Puppetry Arts (COPA) was formed, and it is now known as the International Puppetry Museum (IPM) (www.puppetrymuseum.org). The organization, located in Pasadena, has several purposes: to create an outreach program, including puppet shows and related activities, to create a working restoration program to catalog and preserve Alan G. Cook's International Puppet Collection, estimated to house over 5,000 puppets, to create an educational program in puppetry arts, and to create a puppetry-related library, archives and a news center.
The basis of the IPM's collection is that of puppeteer, puppet collector, exhibit consultant and teacher Alan Cook (pictured above right and with IPM colleagues above left). Cook received his degree in Art History from Pomona College, and he has had a lifelong interest in puppetry. He has worked with puppets on TV, film and stage, and he has been a curator and installer of puppet exhibits for three decades. He also is a member of the Puppeteers of America and co-founder of the Los Angeles Guild of Puppetry. Images of puppets from the IPM collection can be found on all three of the "Links" pages. Click here to begin your visit to those pages now.
2014 NOTE: The Pasadena location for the IPM will be closing April 30, 2014. The collections will be moving to the Northwest Puppet Center in Seattle. More information is available on the IPM website.

SOUTHERN CALIFORNIA STORYTELLERS
Storyteller #1 - You can listen to her stories on the "Inland Empire By City" concert page.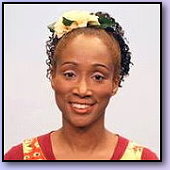 Ina Buckner-Barnette - Ina Buckner-Barnette is an Emmy Award-winning actress, professional storyteller and certified teaching artist. She is also known as the Sunshine Storyteller. As the Sunshine Storyteller she weaves international tales, movement and song to create her interactive shows. Museums, schools, libraries, community festivals and shopping malls from Barstow to San Diego are her regular venues. She says of her family-friendly animal tales that they "will ignite your imagination, tickle your funny bone, and help you shine like the sun!" Her story "Counting to Ten" can be found on the "L.A. County By City" concert page. To learn more about Ina Buckner-Barnette, visit her website at www.sunshinestoryteller.com.

David Chittenden - David Chittenden is a chemical engineer by training and a storyteller. In 1989 he joined Toastmasters and began to complete the group's public speaking program. For reasons that are still unclear, every speech he gave turned out to be a story. As a result, he was encouraged to join the South Coast Storytellers Guild. As a member of the South Coast Storytellers Guild, he found a location through which he could continue to tell and develop his tales. His stories "End of Innocence" and "Lemonade Days" can be found on the "Orange County By City" concert page. You can contact David Chittenden by e-mail at dchittenden@socal.rr.com.
Jim Cogan - Jim Cogan is an educator and professional storyteller who received his B.A. from UCLA and his M.A. in History from Colorado State University. He is a member and presenter of the National Storytelling Association, a performer and master teacher with the Orange County Performing Arts Center, and he has been the Teller-In-Residence at the Los Angeles County Fair since 2007. He has also been commissioned for the creation and presentation of original works for venues such as the Getty Center and the Orange County Museum of Art, in addition to participating in storytelling festivals nationwide. His stories "The Hairy Man" and "The Secret of Charly Parkhurst" can be found on the "L.A. County By City" concert page. To learn more about Jim Cogan, visit his website at www.jimcoganstoryteller.com.
Linda King Pruit - Linda King Pruit is a professional storyteller and educator. She was raised on tall tales from her father, folk and fairy tales from her mother, and Native American tales from her Choctaw grandmother. She has been a resident artist with Fullerton's All the Arts for All the Kids program since 1996, is a storyteller for the Pacific Symphony's Class Act Program, and leads workshops throughout California. She is also a member of the South Coast Storytellers Guild, The National Storyteller Network (state liaison), and the Youth, Educators and Storytellers Alliance (YES!). Her stories "The Story Rock" and "The Grasshopper and the Ants" can be found on the "Orange County By City" concert page. To learn more about Linda King Pruit, visit her website at www.lkpstoryteller.com.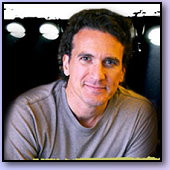 Antonio Sacre - Antonio Sacre is an internationally touring storyteller, writer, and solo performance artist based in Los Angeles. He has been a featured storyteller at the Kennedy Center, the National Storytelling Festival, the National Book Festival at the Library of Congress, and museums, schools, libraries, and festivals worldwide. His recordings have won numerous national awards, and his retelling of the story "The Barking Mouse" was published as a picture book by Albert Whitman and Company in March 2003. His next two picture books will be published by Abrams Books for Young Readers in 2010. His stories "Look for Papito" and "The Barking Mouse" can be found on the "L.A. County By City" concert page. To learn more about Antonio Sacre, visit his website at www.antoniosacre.com.

This summer www.dorothyswebsite.org is pleased to present the paintings of the Guest Poet along with her poetry. There will be no Guest Painter in 2009, but the Guest Painter section will return in 2010!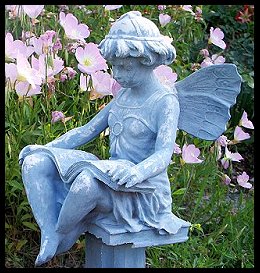 2009 THEME: Most people probably are familiar with the story of the Wizard of Oz through the classic film version starring Judy Garland. While the movie remains fairly true to L. Frank Baum's original book, there are some significant differences. One of those differences is the color of Dorothy's shoes. In the movie they are shiny ruby slippers; in the book they are silver. In both versions of the story, however, clicking the heels of the shoes together three times transports Dorothy away from Oz and back to her home in Kansas.
A good story is like those silver shoes - able to transport a person through time and across borders to virtually anywhere in our world -- or beyond. Stories can be long or short, epic sagas or local lore, written for all to read or told to those wanting to listen. This summer the site celebrates stories of all types -- timeless tales, myths, fables and more -- and those who tell them, both in pictures and in words.
The word "storied" in a literal context can mean either decorated with designs representing scenes from story or history, having a history or being celebrated in story or history. Each of the six main sections of the site listed in the navigation bar above is themed to a different yet familiar tale. And don't forget -- if you want to get back "home," just click the big box at the bottom of each of the main pages and Dorothy's silver shoes will help take you there!

Home | Essays | Poetry |&nbspFree Concerts | Links | 2009 Extras | About the Site
Featured Artists | 2009 Website Special Guests | News