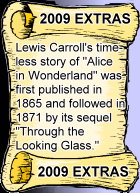 Click here to see the 2009 Featured Artists!

Visit the site's Guests page.

Click here for site NEWS.
2009 EXTRAS

s an "extra" for site visitors, this page lists a few other things you can get or do for free this summer -- "un-birthday presents" of sorts. Some events/activities may be open only to residents of certain cities; others are open to the general public. Call the venue listed or check their website for information if you are unsure. This will be a dynamic list, and it will be updated over the course of the summer as information is received. Input from visitors is welcome, too! (Latest Update: Sept. 25.) Click on a category below to go directly to the section, or continue scrolling down the page.
ART WALKS/ART OPEN HOUSES
CAR SHOWS
FARMERS MARKETS
FROM TOTS TO TEENS AND FAMILIES
LECTURES/LECTURE SERIES
LIBRARIES
MOVIES
MUSEUMS
NATURE CENTERS/PROGRAMS/EVENTS
SENIORS
SPECIAL EVENTS/OTHER
STORYTELLING

"Who are you talking to?" said the King, coming up to Alice and looking at the cat's head with great curiousity."
"It's a friend of mine - a Cheshire Cat," said Alice. "Allow me to introduce you to it."
"I don't like the look of it at all," said the King. "However, it may kiss my hand, if it likes."
"I'd rather not," the Cat remarked.
"Don't be impertinent," said the king, "and don't look at me like that." He got behind Alice as he spoke.
"A cat may look at a King," said Alice. "I've read that in some book, but I don't remember where."
"Well, it must be removed," said the king very decidedly, and he called the Queen who was passing at the moment, "My dear! I wish you would have this cat removed!"
From Lewis Carroll, Alice's Adventures in Wonderland
A bit of "cat-titude" perhaps? Alice encountered some strange and remarkable characters in Wonderland, where things kept getting "curiouser and curiouser." For most of the summer you've seen a few of the characters from Dorothy's "Attitude" series of photographs on this page as well. The creatures have now packed up and moved to Oz (the "About the Site" page, visit the page or click here to go to their new home) to make way for the work of a special summer guest.
Guest ceramic sculpture and metal and glass artist Michael Ezzell has graciously allowed images from his "Wonderland Collection" of figures to appear on this page. You will find the images below, and you can visit the site's "Guests" page to learn more about Michael Ezzell.
"The Cheshire Cat"

CLAREMONT - First Friday Art Walk. Every first Friday of the month from 5:30 - 8:30 p.m. in the Claremont Village. Art demos and live entertainment. Information: (909) 624-1681 or http://www.claremontchamber.org

LAGUNA BEACH - First Thursdays Art Walk. Every first Thursday of the month from 6 - 9 p.m. in downtown Laguna. Information: http://www.firstthursdaysartwalk.com

LONG BEACH - Summer Art Walk. Summer ArtWalk and fine arts festival will take place Saturday and Sunday, August 22 and 23, from 10 a.m. - 5 p.m. at The Pike at Rainbow Harbor on Shoreline Drive. Information: (818) 709-2907 or http://www.westcoastartists.com

LONG BEACH (BIXBY KNOLLS) - First Fridays on Atlantic Avenue. Art, a variety of entertainment and other exhibits along Atlantic Avenue in Bixby Knolls. Information: (562) 595-0081 or www.firstfridayslongbeach.com

LOS ANGELES (DOWNTOWN) - Downtown L.A. Artwalk. Every second Thursday of the month from noon - 9 p.m. Information: (213) 624-6212 or www.downtownartwalk.com

LOS ANGELES (DOWNTOWN) - Knife and Fork at the Museum of Contemporary Art. MOCA's series of interventions by local artists collectives take place the first Thursday of the month from 7 - 10 p.m. at MOCA, 250 S. Grand Avenue. Information: www.knifeandfork.org or www.moca.org

LOS ANGELES (MID-WILSHIRE/MUSEUM DISTRICT) - Miracle Mile Art Walk. More than 40 galleries and museums hold the Art Walk on the third Saturday of each month. Different host gallery and reception each month, and transportation provided by the Holly Trolley shuttle. See website for monthly details. Information: (323) 965-2705 x4644 or www.midcitywest.org

LOS ANGELES (NORTHEAST) - Northeast Los Angeles (NELA) Artwalk. Every second Saturday of the month in the Highland Park area of Northeast Los Angeles from 7 - 10 p.m. Information: www.nelaart.org

POMONA - Metro Pomona Art Walk. Music, food and art every second and last Saturday of the month in the Pomona Arts Colony off Garey Avenue between Holt and Mission Boulevard. Hours are from 6 - 9 p.m. Information: (909) 261-5004 or www.metropomona.com

RIVERSIDE - First Thursdays Art Walk. Art Walk is from 6 - 9 p.m.; includes Riverside Museum. Contact information for museum follows. Information: (951) 826-5273 or www.riversideca.gov/museum

SAN CLEMENTE - Village Art Fair. First Sunday of the month from 10 a.m. - 4 p.m. along Avenida Del Mar. Also Last Thursday ArtWalk in downtown San Clemete from 6 - 9 p.m. Last summer Thursday ArtWalk is on Sept. 24. Information: (949) 218-5378, (949) 492-7175 or www.villagesanclemente.com

SAN JUAN CAPISTRANO - Second Saturday Art Fair. Over 50 juried fine artists, craftsmen and musicians along the sidewalks of downtown SJC from the Mission to Los Rios Street, 11 a.m. - 5 p.m. Information: (949) 493-4700 or www.sjcartfair.org

SANTA ANA - Downtown Santa Ana Artists Village Open House. Every first Saturday of the month from 7 - 10 p.m., Second/Broadway. Exhibits and occasional performances vary from month to month. Information: (714) 564-5625, www.aplaceforart.org www.santaanaartsdistrict.com, www.ci.santa-ana.ca.us

SANTA ANA - Santiago Art District ArtWalk. Artwalks are on the third Saturday of the month beginning at 7 p.m. in the Santiago Art District at Santiago Street Lofts, Santa Ana Boulevard between Santiago Street and Poinsettia Street. Parking at Santa Ana Train Depot. Information: www.santiagoartdistrict.com

SAN PEDRO - First Thursday ArtWalk. On the first Thursday of each month, open galleries and studios, street vendors and entertainment in the downtown San Pedro arts district. Event is from 5 - 9 p.m. in downtown San Pedro between 4th and 8th Streets. Information: www.1stthursday.com

TORRANCE - Arts and Crafts By the Beach. Art by the Beach is presented by the Torrance Artists Guild, the South Bay Watercolor Society, and the Torrance Craftsmen's Guild and takes place every first Sunday of the month from April to October. Event is from 10 a.m. - 4 p.m. in Miramar Park, 201 Paseo de la Playa in Torrance Beach. Information: (310) 830-2806.
Several area Farmers Markets have weekly entertainment, though not always music. Markets with occasional entertainment or for which no published band schedule has been located will be listed here. If a schedule is forwarded, the concerts will be listed in the regular concert listings portion of the site.
FROM TOTS TO TEENS AND FAMILIES
COVINA - A Visit with the Great Presidenta at Forest Lawn. History comes alive when professional actors portray presidents such as Harry S. Truman, George Washington and Abraham Lincoln and share interesting facts about their lives and times. Programs will take place at 9:30 and 11 a.m. on September 23 and 24. Call for reservations. Information: (800) 204-3131 x4789 or www.forestlawn.com.

FONTANA - Tune 'N' Night at the Jack Bulik Teen Center. Youth ages 10 - 17 can showcase their dramatic and musical talents on Sept. 4 and 18 at the teen center Tune 'N' Nights. The events will take place on Sept. 4 and 18 from 5 - 7 p.m. at the Jack Bulik Teen Center, 16581 Filbert Street. Information: (909) 428-8393 or www.fontana.org.
CITY AND COUNTY PUBLIC LIBRARY PERFORMANCES AND PROGRAMS - Libraries throughout Southern California regularly offer patrons a variety of free performances, workshops and other events/activities. It is recommended that you check your local library website often for the best information. Some Southern California library system links include:
Los Angeles County Library System - www.colapublib.org
Los Angeles Public Library - www.lapl.org
Orange County Public Libraries - www.ocpl.org
Riverside County Libraries - www.riverside.lib.ca.us
San Bernardino County Libraries - www.sbcounty.gov/library/home

YOUTH/TEEN SUMMER READING PROGRAMS - Many libraries offer free summer reading programs for youth and/or teens. Check with your local library for availability and details.
Many cities or organizations offer free movies during the summer. Some of these include:
"Mushroom House"
NATURE CENTERS, PROGRAMS AND EVENTS

Home | Essays | Poetry |&nbspFree Concerts | Links | 2009 Extras | About the Site
Featured Artists | 2009 Website Special Guests | News