Click here for site NEWS.
Click here to read about the summer's Featured Artists!

Visit the site's Guest page.
Each summer special guests are invited to exhibit works on the site which either express or in some way interpret the summer theme. The 2008 theme is "METAMORPHOSES." This year www.dorothyswebsite.org was pleased to be able to present the works of the three special Guests this summer. You can read more about them below.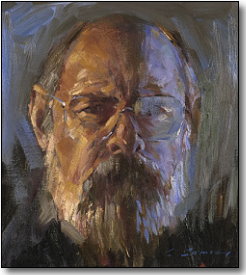 GUEST PAINTER: Carl Ramsey is a Los Angeles-based painter. Raised in San Diego County, he studied under the direction of the art faculty at Southwestern College that included conceptual artist John Baldessari, who suggested Chouinard Art Institute as a developmental next step. Four years later Ramsey began his career as an illustrator. For more than two decades he worked for companies including advertising agencies, Motor Trend Magazine, and motion picture studios. Some of his more visible work consists of final art one-sheet illustrations for films such as Risky Business, Police Academy 4, Return of the Living Dead and Beetlejuice, and the poster art for the long-running Broadway musical Dreamgirls. He is represented by Bert Green Fine Art in downtown Los Angeles (www.bgfa.us).
Ramsey's most recent work, spanning the last eight years, consists mainly of the interpretation of the human and architectural elements in the Historic Core District of downtown Los Angeles, where the painter lived for several years. He has provided a variety of images of his paintings and has generously agreed to allow the images to appear on the site this summer. The images can be found on the "All Cities By Date" concert page. Click here to visit that page now.
Carl Ramsey, artist's self portrait (above)

GUEST POET: Brendan Constantine (www.brendanconstantine.com) is a poet based in Hollywood. His work has appeared in numerous journals, most notably Ploughshares, The Los Angeles Review, Artlife, The Cortland Review, The Cider Press Review, Directions, RUNES, StellaZine and the Los Angeles Times best-seller The Underground Guide to Los Angeles. His poetry also appears in Carving In Bone: An Anthology of Orange County Poets, and his first official book-length collection, Letters to Guns, is due out this spring from Red Hen Press. He is the creator of Industrial Poetry, a workshop for adults and teens struggling with writer's block, and he is currently poet-in-residence at both the Windward School in West Los Angeles and the Idyllwild Arts Summer Youth Writing program in Idyllwild, California.
A regular participant in both the Los Angeles and Orange County Poetry Festivals, Brendan has enjoyed an active role in Southern California's poetry communities. He is a three-time finalist for the National Poetry Series and in 2002 was nominated by the Poetry Super Highway for poet laureate of the State of California. He has generously provided five poems which can be read via links beginning on the Guest Poet page. Click here to visit that page now.

Home | Poetry |&nbsp Essays | Writing Excerpts | Free Concerts | Links | 2008 Extras | About the Site
Featured Artists | 2008 Website Special Guests | News