2007 WEBSITE SPECIAL GUESTS
Each summer special guests are invited to exhibit works on the site which either express or in some way interpret the summer theme. The 2007 theme is "Pieces: Whole," and www.dorothywebsite.org is pleased to present the works of the 2007 Guests: Painter John Cosby, Photographer Ken Kurtis, Landscape Quilt Artist Barbara Brewer, and a Guest Poet. Cosby's works, primarily of the sea and landscape of coastal California, represent the "Whole:" the beauty of the ocean, land, people and world around us, especially in Southern California. The photographs of Ken Kurtis represent one "Piece" of that beauty, the life under the surface of the water. The same notions of beautiful landscapes and seascapes are carried through in the landscape quilts of Barbara Brewer, except through hundreds of pieces of cloth quilted into wall tapestries featuring everything from life under the sea to tropical flowers. All of the Guests have graciously agreed to exhibit their works on the site this year.
* * *
GUEST PAINTER: John Cosby is a plein-air painter who currently resides and maintains a studio in Laguna Beach and Paso Robles, California. As a plein-air painter he travels extensively painting what he sees and feels. "While standing on location in a place I have never visited, I begin to recognize what is different from all the other places I have been. I try to capture that, the uniquness," he says.
Cosby is a founding board member of the Laguna Plein Air Painters Association, and an artist member of the California Art Club and Oil Painters of America. He is also the founder of the Laguna Beach Plein Air Painting Invitational held at the Laguna Art Museum. His paintings have received numerous awards, and his work has been exhibited from coast to coast in the U.S. If you'd like to see more of John Cosby's work, you can visit the Cosby Studio website at www.cosbystudio.com or www.pacificedgegallery.com. His paintings can be found on this site on the "All Cities By Date" concert page. Click here to visit that page now.
---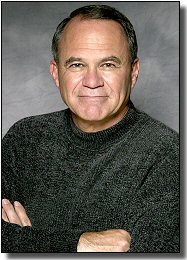 GUEST PHOTOGRAPHER: Ken Kurtis is an active NAUI instructor and has been teaching scuba diving since 1980. In that time he's logged over 4200 dives all over the world. He is co-owner of Reef Seekers Dive Company in Beverly Hills (www.reefseekers.com) and also serves as Chairman of Chamber Day and Evening, an annual fundraising event for the Catalina Hyperbaric Chamber. He is a frequent writer/photographer/contributor for many local, regional and national scuba publications.
Ken got his start in underwater photography over 25 years ago and now you rarely see him diving without his housed camera in hand (Ken shoots with a Nikon D200 in an Ikelite housing with dual Nikon SB-105 strobes). He's been a dive Team Leader at the Aquarium of the Pacific in Long Beach since they opened in 1998, and he serves as the Aquarium's unofficial in-house underwater photographer. Ken is also a familiar face to many as he hosted the KCET Pledge Drives for almost 20 years. His photographs can be found on this site on the "All Cities By City" concert page. Click here to visit that page now.
* Photo by Peter "Hopper" Stone
---
---
GUEST QUILTER: Barbara Brewer is a landscape quilt artist who lives in Yorba Linda. Landscape quilts are wall hangings created by layering fabrics for depth and realism. The pieces are then machine quilted for additional shading and dimension. Brewer's signature style generally includes vivid color and shimmering fabrics as light sources plus yarn and ribbon for texture.
Mrs. Brewer is actively involved in the Yorba Linda arts community. She is a regular participant in the Yorba Linda Celebration of the Arts showcasing the city's artists and performers, and she has been featured in local quilt shows. Her landscape quilts will be on display in the Yorba Linda Public Library in December. If you'd like to learn more about her work, you can visit her website at www.bbquiltscapes.com. Mrs. Brewer's has graciously consented to exhibit her quilts on the site this summer. They can be found in the City and Art/Poetry sections of the "Links" page. Click here to visit that page now.
Home | Poetry |&nbsp Essays | Writing Excerpts | Free Concerts | Links | 2007 Extras | About the Site
Featured Artists | 2007 Website Special Guests | News