NEW ESSAY SERIES FOR 2005!

Blue Roses, Green Cars and More: What Color is Your Future?
THIS SUMMER'S FEATURED ARTISTS

2005 WEBSITE SPECIAL GUESTS
Guest Painter
Click Here
Guest Poet
Click Here
Guest Photographer
Click Here
GUEST PHOTOGRAPHER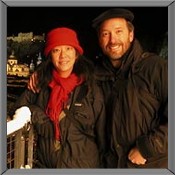 DIRK YURICICH

This summer dorothyswebsite is pleased to be able to present the work of Guest Photographer Dirk Yuricich. Dirk is a native Californian currently based in Lake Tahoe. He and his wife Lisa Hori lived in Japan for more than ten years and have travelled together throughout some of the most interesting places in the world. Dirk's photographic works include images of places from Bali to the Galapagos Islands and from the California Sierras to the Swiss Alps. You can view his pictures on the Concerts By Date/All Cities page of the Free Concerts section.
If you'd like to learn more about Dirk or see more of his catalog of photos, you can visit his website at www.dirkphotoz.com.
GUEST POET
JAMES RAGAN

This summer the site is pleased to present the poetry of James Ragan. He has been honored both here and abroad as an ambassador of poetry. In 1985 he was one of three Americans, including Robert Bly and Bob Dylan, invited to perform for Mikhail Gorbachev at the First International Poetry Festival in Moscow. He has since performed for five international heads of state including Vaclav Havel. He is the recipient of numerous poetry honors including two Fulbright Professorships (Yugoslavia and China), the Emerson Poetry Prize, eight Pushcart Prize nominations, an NEA, a Presidential Medal (St. Vincent College), and a Poetry Society of America Gertrude Claytor award. He is the author and editor of numerous books of poetry and plays, and his poetry has been recorded on Sony/Alfa and Rhino Records. He has a Ph.D. and is the director of the Graduate Professional Writing Program at U.S.C. His works can be accessed through the Poetry and Photos main page.


GUEST PAINTER
DEBRA HUSE

This summer the site is pleased to present the paintings of Balboa Island artist Debra Huse. Debra is a contemporary colorist and impressionist. She uses rich color and bold, fluid strokes to capture the light and drama in her paintings. As Degas and Mary Cassatt, Huse enjoys working in oils and pastels and is a Signature Member of the Pastel Society of America. Debra began formal painting when she was ten. At age 11 she was awarded a scholarship and attended college courses at Herron School of Art in Indianapolis. She currently lives in Southern California, and her work is displayed on the Concerts By City/All Cities page of the Free Concerts section.
If you'd like to learn more about Debra Huse or see more of her paintings, you can visit her website at www.debrahuse.com.